My second poetry collection 'Beautiful Alien' was published in early September so I thought it was time to write about it a little more.
I finally got the chance to take some new photos of me with the book. It's always nice to see authors with their books, don't you think so?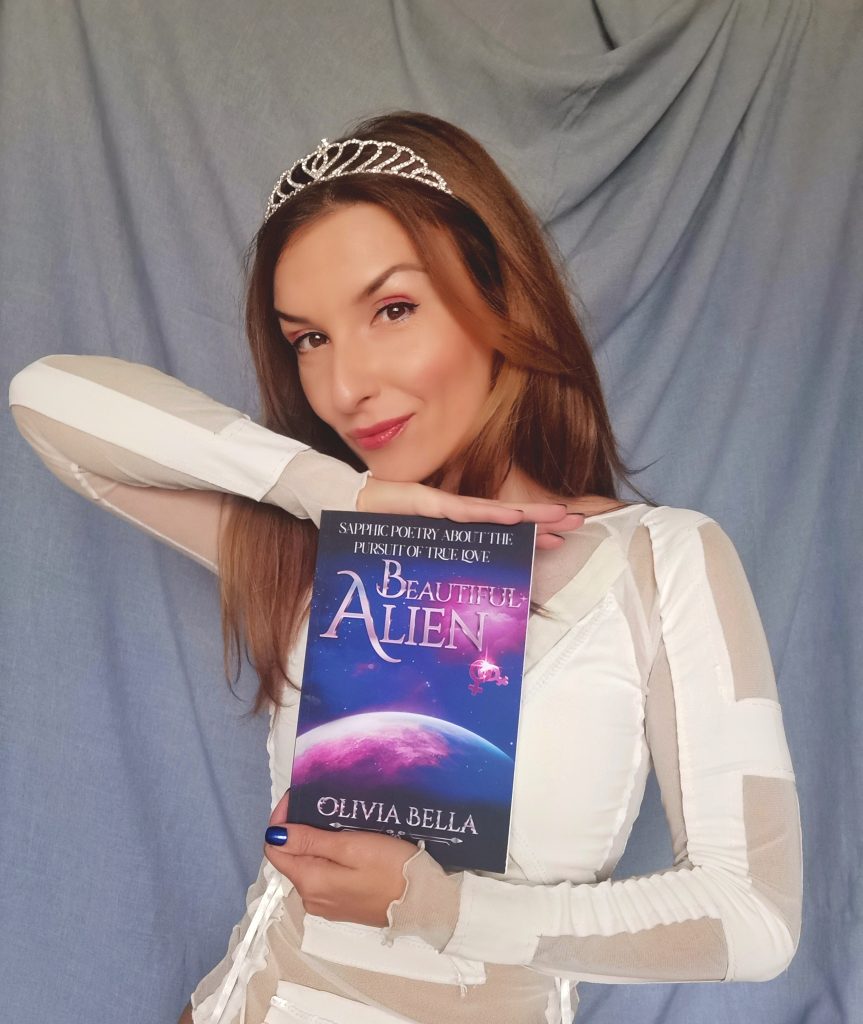 The book is divided into three chapters: Shards, Purple Haze, and Lipstick Hearts.
While the chapters work on their own as well, the sequence of the poems throughout the book was designed to tell a story. 'Beautiful Alien' takes the reader on an evolutionary journey from inevitable endings and hurt, through a hazy but sizzling romance, to finding real love.
'Shards' is about stale relationships that cannot be salvaged, no matter how hard we try. In the process of change, and seeking our truth, we inevitably hurt others, and eventually end up hurting ourselves too. The first chapter presents a refreshing perspective on the internal battles that take place during breakups, without blaming or villainizing the other person.
'Purple Haze' takes us on a journey of a hazy but sizzling romance. The second chapter is filled with poems about longing, loving, and letting go. We can witness the emotional transformation that comes from a relationship that never quite stood a chance in the real world.
'Lipstick Hearts' is here to give us the satisfaction we've been craving during the first two chapters. The third and final chapter of the book culminates in finding that special someone whom we not only have insane chemistry with but also a deep soul connection. The highly sensual and romantic nature of the poems makes for a powerful ending.
---
Here is what some of my ARC readers had to say:
In her epic second poetry book, Olivia Bella takes her readers on a celestial, sapphic journey of self discovery. She gracefully leads her readers down riveting roads of raw emotional heartache that is punctuated with sizzling scenes of sensuality. You won't be able to put this book down and like me, you will be left begging for book three.

— Jo Crook, writer and poet
"Beautiful Alien" embarks on a poignant journey that commences with fragments of a shattered heart strewn across the pages of what was envisioned as an everlasting love. The profound exploration of emotions is impossible to overlook, articulated with a vivid imagination that leaves me in awe of the author's craft.

In "Beautiful Alien," the poet bares her soul, exposing all that is broken, shattered, and torn, yet miraculously finds healing within her scars. Vulnerable and open, she invites readers to immerse themselves in the rollercoaster of love's myriad emotions, both lost and found.

As the journey unfolds, we are greeted with the intoxicating blend of love entwined with lust. With every turn of the page, the energy surges, and our hearts quicken, celebrating the author's captivating voyage into the realm of love.

At the heart of each poem lies the essence of love, and I am grateful to have experienced Oliva's latest book.

— Colin Melville, poet and writer
I am so incredibly grateful for the reviews. Here are a few more from Amazon:

Beautiful Alien is available worldwide in paperback and eBook formats.